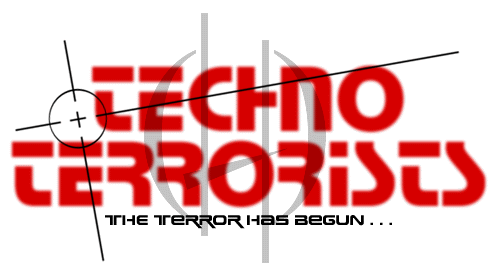 Everything You've Wanted To Know, But Were Afraid To Ask
If you want the best in techno and dance music on Pittsburgh radio, then you have hit the right page. Here you can find out about Pittsburgh's best-known techno DJs on the radio, the Techno Terrorists. They consist of Sean (wipeout@dhp.com) and Matt (panzer@dhp.com), who have been DJing together since the fall of 1990. At that time, it was Matt's show, called "Unauthorized Broadcast." The following semester Matt was temporarily unable to continue at the station, so Sean took over for appropriately enough, "Son of Unauthorized Broadcast." In the fall of '91, the Techno Terrorists were born with Matt's return.
If you happen to get copies of their first few shows, you may be surprised at how much has changed in their playlist since then. Starting out with new wave dance, house, industrial and early german techno, over the years they expanded their repetoire to include hardcore, trance, smatterings of breakbeat, ambient and more recently goa. Almost every Friday since then, (barring the occasional Friday concert) they have had their weekly radio show on WRCT, Carnegie Mellon University's student-run radio station.
During the Spring semester of 1998, the show is from 9pm - Midnight, Fridays. If you're in the Pittsburgh area, tune us in! WRCT's frequency is 88.3Mhz on the FM band.
Check out what's playing on WRCT right now via AudioActive!
Call in requests at 412-621-WRCT (9728) or send in your requests via the web by entering them in the form below.

---
Looking to purchase some of the music we play? Then contact Future Sounds at their Web Page or via the phone at 412-421-3727.
---
We hosted a free party on the 21st of June. Had a blast, though the heat was dreadful. Stay tuned as plan another one for July hopefully. Check out the Deviation web site for basic info and flyers from the party.
---
Previous Seasons' Playlists